International Ski-O Weekend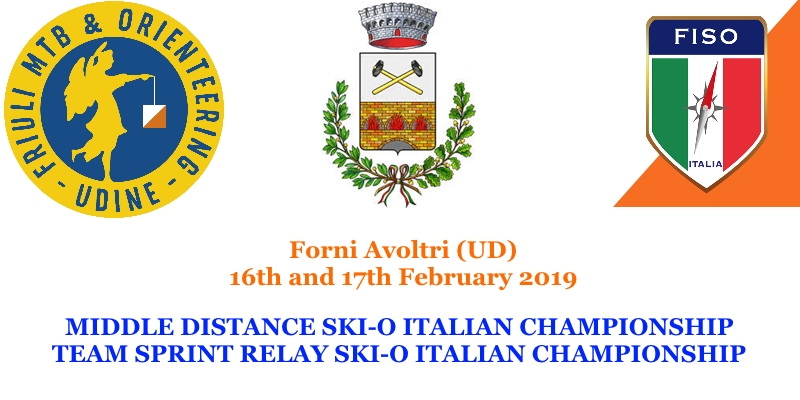 Date: 16 e 17 february 2019
Place: Forni Avoltri (UD) – Carnia Arena Biathlon Center
Technical committee
Race Director: Di Bert Paolo
Course Planner (Saturday): Bezzi Marco
Course Planner (Sunday): De Colle Giusto
Controller (Saturday): De Colle Giusto
Controller (Sunday): Bezzi Marco
Start Judge: Aldo Genuzio
Finish line Judge: Cojutti Luciano
Event Secretary: Sarra Mariangela
Data processing: Mitri Denis

Program
Saturday 16th february – Middle Italian Championship
14:00 Opening of Event Center at Biathlon Center Forni Avoltri
15:00 First start (near meeting point)
17:00 Prizes ceremony
Sunday 17th february – Team Sprint Relay Italian Championship
09:00 Opening of Event Center at Biathlon Center Forni Avoltri
10:00 First start (near meeting point)
13:00 Prizes ceremony
Categories, fees, registration
Saturday 16th february – Middle Italian Championship
2nd Ski-O Italian Cup Event – FVG Regional Championship
M/W-14, M/W-18, M/W Elite, M/W40+, M/W50+, M/W60+, M70+
Furthermore categories DIRECT and MW12 that do not compete for the title.
Sunday 17th february – Team Sprint Relay Italian Championship
MW-17, MW Senior, MW40+, MW50+, MW60+
Furthermore categories OPEN and MW13 that do not compete for the title.
In the sprint relay team the team will be composed by a woman/man who runs three turns each, alternately; sprint length with expected time for each lap between 6 and 8 minutes.
Fees
Middle entry fees: 5,00€ for M/W-12, M/W-14, M/W-18, Direct; 10,00€ for other categories.
Team Sprint Relay entry fees: 5,00€ per competitor for M/W-13, M/W-17, Open; 10,00€ per competitor for other categories.
SI-card rent: 1,50€, free for category Direct.
Registration
Within Tuesday 12th february 2019 through the www.fiso.it website. For foreign athletes by email to info@friulimtb.it specifying name, surname, class, club, nation, SI-Chip number and date of birth. Registrations arriving after this date will be subject to 50% overcharge. For categories Open and Direct registrations will be accepted until the day of the race.

Logistic information
Tourist Board PRO Forni Avoltri: www.forniavoltri.eu